This was the first version of the Pão de Queijo I made, and it was mighty tasty. I have since learned the wonder of a more
traditional recipe
, which takes longer but is well worth it in taste and texture! But sometimes, you just want some Pão, and you want it now. When that happens, this blender recipe works beautifully:
http://allrecipes.com/recipe/brazilian-cheese-bread-pao-de-queijo/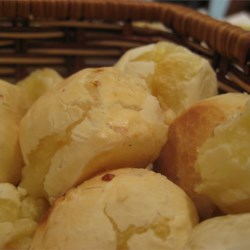 (photo from allrecipes.com)
They were scrumptious, but need a few notes and modifications. A lot of the reviews were from people who lived in or visited Brazil, so I give those reviews much more weight.
The biggest complaints in the reviews were from Americans who were expecting these to turn out like bread or biscuits. Tapioca starch has two textures: crispy and rubbery. You can make them more airy by using a stand mixer for four minutes before scooping, but the super-chewy center is how it is supposed to turn out. Make them smaller than the recipe calls for (1-2 tablespoon scoops instead of 1/4 cup) to balance out the crunchy/rubbery textures.
I also had to bake them for 20 minutes instead of the 10-15 called for. They probably could have stood another 5 minutes after that. But don't mistake the dense center for underbaked; as said before, it's supposed to be like that.
Because it is, essentially, a super-chewy bread, I might leave out the garlic next time and use it to satisfy my bagel cravings. I have yet to find a really good gluten-free bagel recipe... one that doesn't turn out to be sandwich bread baked in a bagel shape. I can imagine that these pao de queijo with a little cream cheese might just hit that bagel chewiness I miss.
The reviews generally agree that these do not freeze well, and should be eaten the same day. Tapioca starch does funny things when it sits, so it doesn't surprise me a bit that they turn into inedible rubber balls. Since they are so quick to make, however, they make a good side for a big dinner, or a non-perishable snack for a picnic. The recipe is easily halved for serving one or two.